Old Operating Theatre Museum and Herb Garret Venue Hire †
†
†
ADDRESS
†
†
TELEPHONE
†
†
Old Operating Theatre Museum and Herb Garret has 2 rooms available for private hire
Venue hire at Old Operating Theatre Museum and Herb Garret
†

Hire this venue for your own event - it has two function rooms the largest of which can hold a maximum of 60 guests and the smallest is ideal for 25.
Hidden away in the roof space of the old St Thomas Baroque church, this restored 1821 women's operating theatre is the oldest operating theatre in England. The 19th century
Old Operating Theatre
is located on the original site of
St Thomas' Hospital
. The theatre - together with the Herb Garrett that also shares roof space - provides a fascinating glimpse into the past using exhibits to tell the story of surgery and herbal medicine. Functioning before antiseptic and anaesthetic surgery was invented, the theatre?s ominous collection of sawing, cupping, bleeding, trepanning and childbirth instruments appear more implements of torture than healing. The wooden spectator galleries surrounding the operating bed provide a stark reminder of the audiences who would gather, with morbid fixation, in the "theatre" to observe proceedings. In the oak-beamed Herb Garret pharmaceutical jars bursting with excavated plant remains from wormwood to knitbone perch, ready for action, on wooden shelves. Tours, talks, lectures combined with the location, detail and design of this museum make this place one of intrigue and interest - as well extreme squeamishness.
Best for:
Herbs and hospital beds, operations and medicine.
†
†
Old Operating Theatre Museum and Herb Garret images
Old Operating Theatre Museum and Herb Garret †
†
The Operating Theatre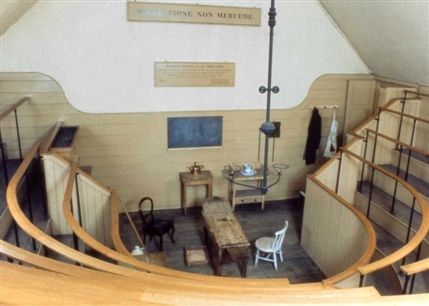 Capacity
Other
60
†
†
Dimensions
†
†
The Herb Garrett
Dimensions
†
†
Location map of Old Operating Theatre Museum and Herb Garret