Victoria and Albert (V & A) Museum Venue Hire  
ADDRESS
TELEPHONE
OPENING TIMES
Mon-Thu, Sat-Sun: 10am-5.45pm; Fri: 10am-10pm
Victoria and Albert (V & A) Museum has 9 rooms available for private hire
Venue hire at Victoria and Albert (V & A) Museum

Hire this venue for your own event - it has nine function rooms the largest of which can hold a maximum of 700 guests and the smallest is ideal for 70.
The
Victoria and Albert Museum (V&A)
was originally founded in 1852 to inspire and educate British designers and manufacturers. Today it houses over 4 million items spanning centuries and hundreds of cultures. The stunning collection covers European, Indian, Chinese, Korean, Japanese and Islamic artefacts ranging from ceramics, glass, metalwork and sculpture to costume, armour, weaponry and furniture. Among the museum's highlights are the dress collection which spans the 17th century to present day haute-couture; and the four-poster, Jacobean Great Bed of Ware, immortalized by Shakespeare in 'Twelfth Night'. Galleries and facilities within the museum include the
Theatre & Performance Galleries
, the
Sackler Centre for Arts Education
and the
Medieval and Renaissance Galleries
. Additionally, 2017 saw the opening of a new purpose-built underground gallery and magnificent courtyard space as part of the ?48 million
Exhibition Road Quarter
. The building itself - a mix of Victorian and Edwardian design - also presents a truly formidable display. The two halls (Cast Courts) form a major focal point for the gallery with their high glass roof, elevated corridors and walkways. The V&A has become renowned for its major exhibitions, covering everything from David Bowie to the 1960s Revolution, and is a must-visit for tourists and locals alike.
Victoria and Albert (V & A) Museum images
Victoria and Albert (V & A) Museum  
The Raphael Gallery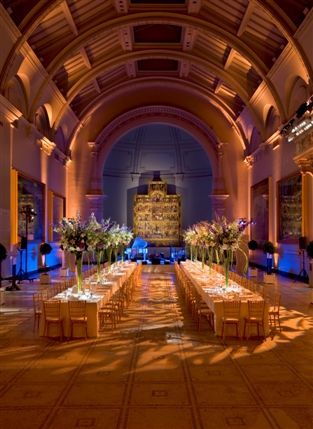 Capacity
Reception
400
Dinner
400
Dimensions
The John Madejski Garden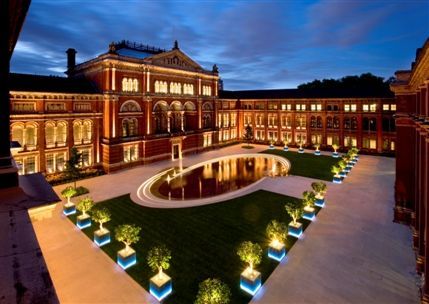 Capacity
Reception
700
Dimensions
The Dome
Capacity
Reception
700
Dinner
250
Dance
250
Dimensions
The Cast Court
Dimensions
The Dorothy & Michael Hintze Sculpture Galleries
Dimensions
The Edwin & Susan Davies Paintings Galleries
Dimensions
The Gilbert Bayes Gallery
Capacity
Reception
150
Dinner
70
Dimensions
The Whiteley Silver Galleries
Dimensions
The Lecture Theatre
Dimensions
Location map of Victoria and Albert (V & A) Museum
 

London Hotels

From cheap budget accommodation to luxury 5 star hotels see our discounts for Victoria and Albert (V & A) Museum hotels, including from 0% off.